How Much Does Corefact Cost?
Corefact prides itself on selling high-quality products at reasonable prices. Interested in learning more about how we decide final costs? Here are the four main factors we take into consideration:
The type of product or service you are ordering.
Quantity purchased. We offer tier pricing on most products, so larger quantities will have cheaper per piece prices.
Delivery type: Standard Mail, First Class, or Ship to Me, or Pick Up.
Discounts applied. (See below)
For updated prices, visit the Corefact store. Click on your chosen product, then select a template to view pricing details.
Discounts
Here are a few ways to save money on your marketing materials.
CoreCredits:
Our prepaid program enables you to lock down a discounted price on bulk orders. Complete and send this form to cs@corefact.com to get started.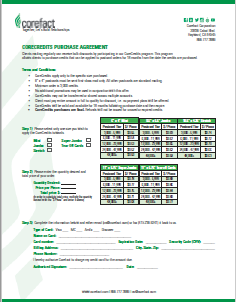 Corefact Elite:
Sign up for Elite and we'll automate your campaign for an entire year. Corefact will handpick cards with the highest response rates, and make sure all your mailers go out on time and in the most effective order. Visit our Elite page to learn more about automating your marketing.
Promo Codes:
Sign up for our monthly newsletter and follow us on social media to receive promo codes regularly.
Need help?
Our Customer service team is ready to come to the rescue:
Call us: +(866) 777-3986
Monday through Friday 8:00 AM - 5 PM PST
Email: CS@Corefact.com
Related topics