How to Pay Using CoreCredits
CoreCredits are automatically applied to relevant orders. Make sure the product you've chosen matches the size, specs, and shipping method as your CoreCredits.
Applying and removing CoreCredits to applicable orders can be done on the payment page. Click the corresponding button to the right of the screen under "Price Summary" to add or remove.
For an error-free purchasing process, make sure you choose the correct CoreCredits shipping option for your product.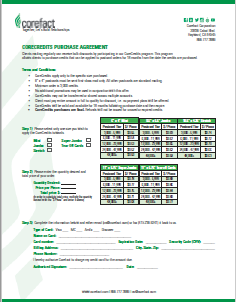 CoreCredits lets customers purchase credits toward their favorite products in bulk. This locks in the best possible price per piece. Interested in signing up? Complete the Corefact CoreCredits Purchase Agreement and email to cs@corefact.com or fax to 415.236.6241.
Interested in learning more about CoreCredits? We've got you covered! Check out additional FAQs here.
Looking for a discount for multiple users? Learn about our Enterprise program and sign up for a consultation by visiting our Enterprise page or calling 866.777.3986.
Need help?
Our Customer service team is ready to come to the rescue:
Call us: +(866) 777-3986
Monday through Friday 8:00 AM - 5 PM PST
Email: CS@Corefact.com
Related topics