Lock in the Lowest Possible Price Using CoreCredits
You could be saving big on your direct mail. CoreCredits lets you purchase credits toward any Corefact product. CoreCredits ensure you're getting the best possible price per piece at a price that will never increase. The more CoreCredits you purchase, the more cost-effective your direct mail will be.
To order CoreCredits, fill out the CoreCredits Purchase Agreement and send back to us via email at cs@corefact.com or fax to 415.236.6241.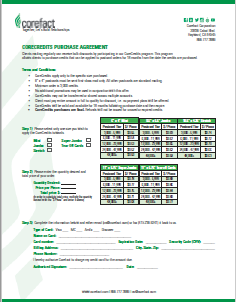 New to CoreCredits? We've got answers to the frequently asked questions. Browse below!
General Tips and Answers:
What Are CoreCredits?
How Do CoreCredits Save Me Money?
Can I Use CoreCredits on Different Products?
Payment and Shipping Options
How to Pay Using CoreCredits
CoreCredits Shipping Options
Expiration Date and Refills
Can I Check How Many CoreCredits I Have?
How Do I Refill My CoreCredits?
Are CoreCredits Transferrable?
Do CoreCredits Expire?
How Can I See When My CoreCredits Expire?
If you still have questions, feel free to reach out to us at cs@corefact.com or call 866.777.3986.
CoreCredits lets customers purchase credits toward their favorite products in bulk. This locks in the best possible price per piece. Interested in signing up? Complete the Corefact CoreCredits Purchase Agreement and email to cs@corefact.com or fax to 415.236.6241.
Looking for a discount for multiple users? Learn about our Enterprise program and sign up for a consultation by visiting our Enterprise page or calling 866.777.3986.
Need help?
Our Customer service team is ready to come to the rescue:
Call us: +(866) 777-3986
Monday through Friday 8:00 AM - 5 PM PST
Email: CS@Corefact.com
Related topics