The 7 Advantages of Sending a Home Estimate Postcard
Home Estimate postcards are some of our best-selling postcards. They feature several strong calls to action, giving you insight into which homeowners you should follow up with.
Home Estimate Features
The unique key code feature allows you to track your leads' actions. You'll receive notifications whenever a homeowner logs in to view their free estimate so you can take action and follow up. You can also add a personalized neighborhood map to separate your card from the competition.
Remind homeowners you're there to make their lives easier.
One of our most popular designs.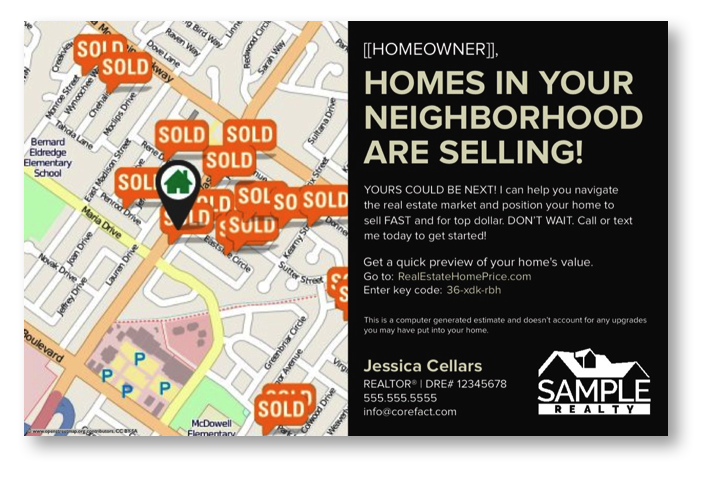 Ask homeowners how their home's value stacks up.
Push homeowners to leverage their home's equity.
Appeal to homeowners thinking about buying or selling.
Remind homeowners inventory is low, and homes are selling.
Push homeowners to look at their free home estimate.
Home Estimate postcards paired with Just Listed and Just Sold postcards are a strong starting point for your direct mail strategy. Sending these three postcards to your farm guarantees your face and brand is seen by your farm, and you will begin to be seen as the local real estate expert. Don't forget to follow up with all your leads in a timely manner.
Consistent marketing is the best way to build brand recognition. Corefact Elite sets you up with a stellar 12-month campaign. We handpick the best cards with the highest response rates and run the campaign for you. All you need to do is follow up with your leads and close your listing appointments.
Need help?
Our Customer service team is ready to come to the rescue:
Call us: +(866) 777-3986
Monday through Friday 8:00 AM - 5 PM PST
Email: CS@Corefact.com
Related topics