Top 10 Just Sold Real Estate Postcard Strategies
You can now eliminate the guesswork for your sphere of influence, farm, or radius using our tried and true Just Sold postcards to achieve your business goals. Each postcard achieves a specific result you can rely on. Say goodbye to frustrating cookie-cutter postcards.
Together we can help you become the market leader in your area.
1. Branding & Elegance
If you want to have a complete package for your marketing strategy, this postcard serves that role as part of our Chalkboard Collection. You can include this card as part of your larger marketing plan or just because you love the look. This collection includes a matching Just Listed postcard, one or two-sided flyers, welcome sign, sign rider, and We Moved note cards for your new buyers.
Just Sold Postcard - Chalkboard Collection 2 Photos
2. Experienced & Market Savvy
This power card demonstrates your ability to WOW your clients by sharing current market information with each recipient! This card helps you share how many offers this listed property received, a recommendation, and a map spotlighting the recipient's home.
Just Sold Postcard Home Estimate QR Code - Champion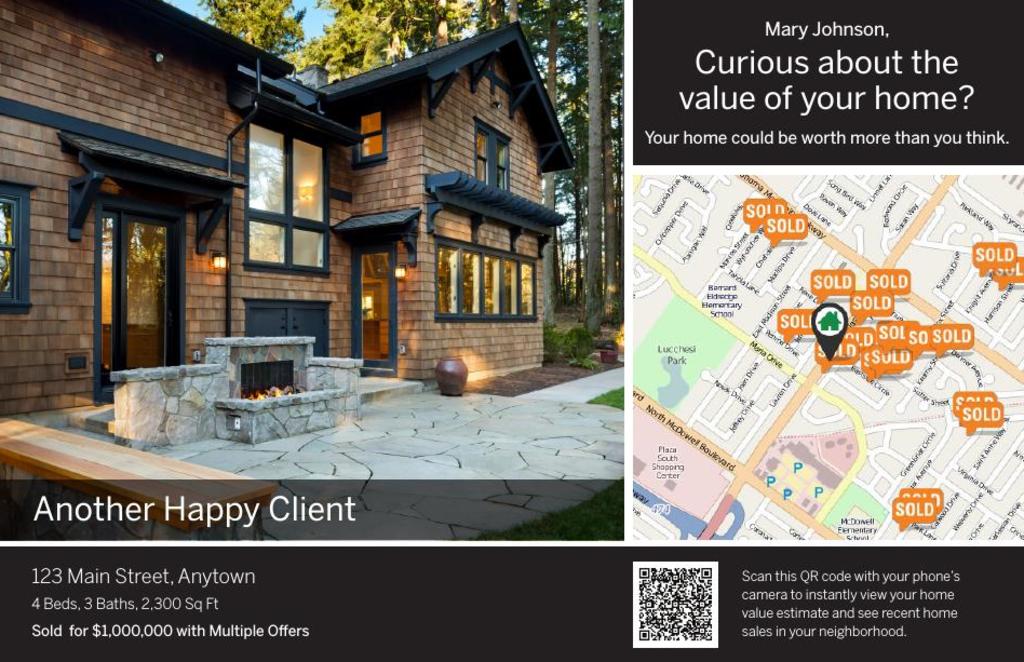 3. Hot & Ready to Serve
Highlight how fast your listing went pending and offer to help others receive the same service. This card also provides a quick and easy free home estimate to each recipient. Use this postcard to create a sense of urgency and generate leads with your farm or sphere of influence.
Just Sold Postcard - Red Banner
4. Neighborhood Expert
Showcase your expertise within each neighborhood you have sold properties. Potential buyers and sellers will be interested to see which properties have recently sold, and this postcard provides them with all the juicy details. Don't forget to include one of our clear calls to action on the backside!
Just Sold Postcard - Modern 3 Photos
5. Community & Action
Use the power of community to help buyers and sellers to take action with selling their current home to find their dream home. This postcard reinforces your ability to take care of your clients and get their homes sold! Easily reinforce your connection with this neighborhood and begin generating more leads.
Just Sold Postcard - Modern Bold 2
6. Client Satisfaction
Your client's experience is paramount to receiving future referrals and recommendations. This postcard demonstrates your ability to professionally represent your clients, take them through the home-buying journey, and earn their future testimonials!
Just Sold Postcard - Showcase 01
7. Quick & Efficient!
Demonstrate your ability to be quick and efficient for your real estate clients. Every opportunity we have to demonstrate our power, we need to take it! Do not hesitate to toot your own horn and let everyone know how amazing you are.
Just Sold Postcard - Showcase 03
8. Happy Clients!
Create an emotional pull for why people should hire you to guide them through the home buying and selling process. This postcard shows how you deliver for your clients while demonstrating your expertise as a real estate agent in their area.
Just Sold Postcard Home Estimate QR Code - Another Home Sold
9. Bold and Elegant
This postcard is for our favorite number-crunching real estate agents! If you love sharing testimonials and specific data - this postcard is for you. Allow the elegance of this card to create a safe space for recipients to really read your client's recommendation while seeing how quickly you were able to sell this property.
Just Sold Postcard - Simple 01
10. Power To Close!
This simple card is powerful with a clear message about your power to close for your clients and bring in offers over the listing price!
Bonus Postcards
Here is a small sample of our other creative and fun postcards to share with your sphere of influence and farm! Each card brings a bit of happiness, market information, and action to each recipient. Happy marketing!
The Bright Side - Purr-fect Time
Need help?
Our Customer service team is ready to come to the rescue:
Call us: +(866) 777-3986
Monday through Friday 8:00 AM - 5 PM PST
Email: CS@Corefact.com
Related topics