Postcards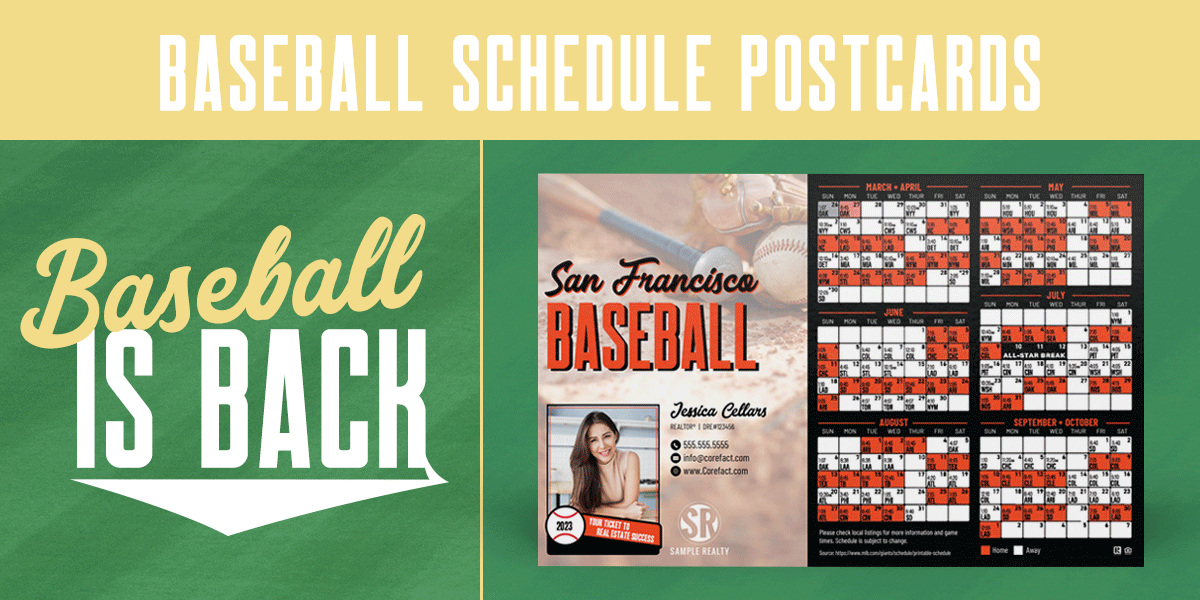 Baseball schedules are cherished by sports fans all season long. Every time prospects look ahead at the next game, you remind them you are their 'pro' in servicing their real estate needs. Knock your marketing out of the park and stick your real estate brand in front of homeowners on team sports schedule postcards or magnets.
• Paper Stock: 110# Satin Cover
• UV Coated Front
• Jumbo Size Postcard (8.5" x 5.5")
---
---
Here are 5 ways to grow your business by mailing baseball schedule postcards to your farm.
1. Show Your Knowledge of the Local Area:
Mailing Major League Baseball schedule postcards to your farm demonstrates that you are knowledgeable about local events and activities, which can help build trust and credibility with potential clients.
2. Targeted Marketing:
By sending postcards to your farm, you are targeting a specific geographic area where you are most likely to find potential clients. This can be a cost-effective way to reach a specific audience.
3. Opportunity to Follow Up:
Mailing postcards provides an opportunity for you to follow up with potential clients who express interest in your services. You can follow up with a phone call, email, or additional mailing to further establish a relationship and potentially win their business.
4. Increase Brand Awareness:
By including your branding and contact information on the postcard, you are increasing your visibility and making it easy for people to contact you if they need your services.
5. Provide Value to Your Farm:
Including a Major League Baseball schedule on the postcard can provide value to your farm by giving them information about local events and activities. This can help position you as a resource for your community and build a positive reputation for your business. Additionally, many people are passionate about baseball and may appreciate the information and look forward to receiving the postcard each year.
---